Outline of Manufacturing Process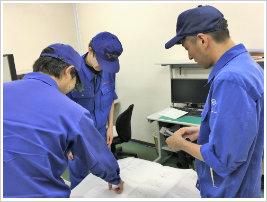 Study in preparation for manufacturing
We make a careful study of specifications requested by our customers through the relevant documents such as order forms, drawings etc. and decide the most suitable processing methods (manufacturing process, machinery, jigs & tools etc.)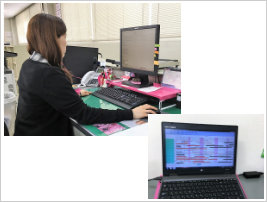 Production Schedule
We plan the production schedules for the production-control-sheets issue, NC program, jig & tool, machining, inspection and shipping under the condition of materials and delivery date.
We also try our best to meet our costumer's urgent requests such as quick delivery, using a process management software and adjusting a process flow.

Jig & Tool Design / Manufacture
By using CAD software, we promptly plan and design the jigs & tools necessary to effectively manufacture the blades specified in the drawings.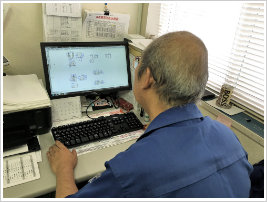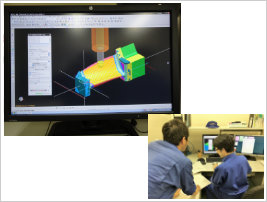 NC Program
We use three-dimensional CAD/CAM systems to effectively create high-precision 3D NC programs. Our 3D CAD data systems are available for the systems as follows:
・NX
・hyper MILL
・VERICUT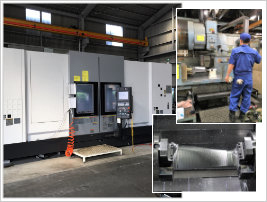 Machining Process (cutting, pre-machining, MC, post-machining)
Skillful technicians process the blades with unsurpassed precision and efficiency, 24 hours a day, using a newest 5-axis control machining center, 38 MC machines, 16 NC milling machines and 3 wire electrical discharge machines.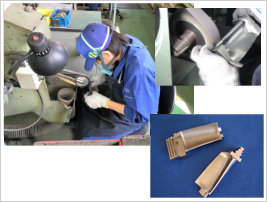 Grinding Process (grind, chamfer, hand finish)
The highly-trained technicians carefully finish the blades one by one, using the special blade-grinding-machines.
Geometrical tolerance blades are finished using CMM(Coordinate Measuring Machine) for their profiles.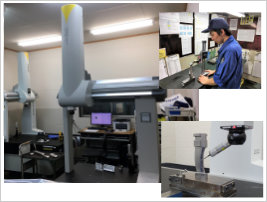 Final Inspection
Qualified inspectors carefully examine the dimensions and appearance of the blades, using CMM(Coordinate Measuring Machine) and high precision measuring devices before delivering in order to provide the required specifications to our customers. PMI also can be done for preventing mixing in a different material.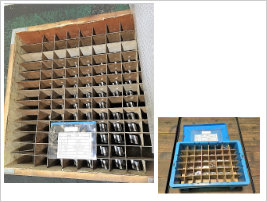 Packing & Shipping
We pack and ship the blades carefully to customers in accordance with decided specifications as follows:
In addition, we can also pack and ship in accordance with customer specifications and needs.
・Proving diaphragms
・Individual packing
・Rustproofing
・Scratch prevention
・Providing special packing boxes
・Offering appropriate transport companies